Kerlingarfjöll – 7 DAY TOUR
Kerlingarfjöll – 7 Days Riding Tour
Tour not available in 2023
Amazing riding tour to Kerlingarfjöll geothermal area in the Heart of Iceland, between the glaciers Hofsjökull and Langjökull. Kerlingarfjöll are one of the biggest mountains and geothermal areas in Iceland.
The area described as a cluster of rugged mountains with steep hills and also sharp lines. It is very different from the close surrounding. Rhyolite and obsidian are types of rocks that characterize the appearance of some of the mountains, making the area extremely colorful. We will see incredible for riding landscape and not often seen elsewhere.
Kerlingarfjöll were probably named after a high rock pillar that is said to be a female troll who was turned to stone as she was hit by daylight back when her kin roamed the country. The massif is colorful and rich in contrasts with its peaks and valleys, also glaciers, snowfields and all that lively geothermal activity that serves to make the area so interesting. Area was created and formed during a volcanic eruption in the last part of the ice age.
First of all it will be a limited sized group with emphasis on quality horses and good food. This excursion is only for experience and very experience riders. You will be riding with a herd of freely running horses. Seven days in the saddle which leaves unforgettable memories . The trial where you can see many monuments of nature and beautiful landscapes of Iceland.
Sleeping bag accommodation.
Important: Due the poor weather conditions plan and distance of the tour may change.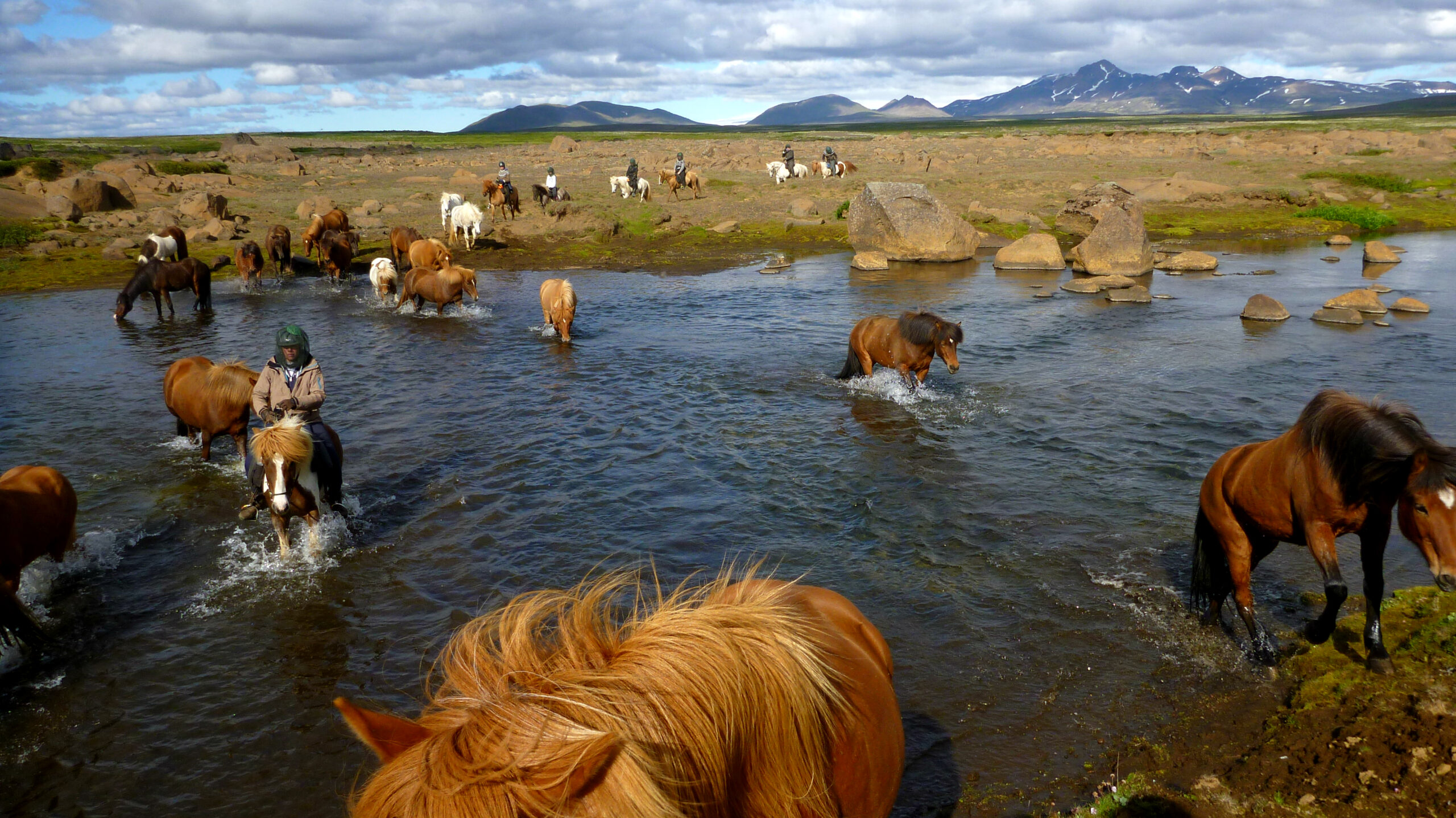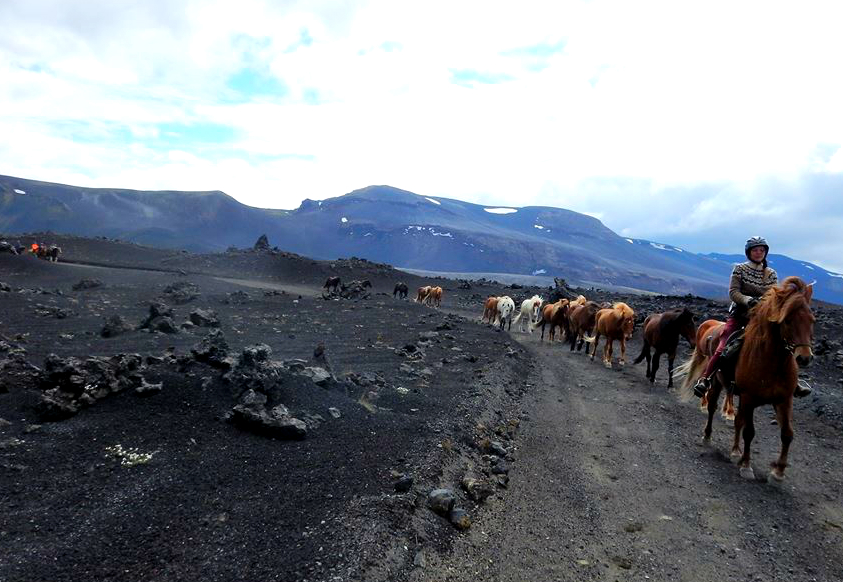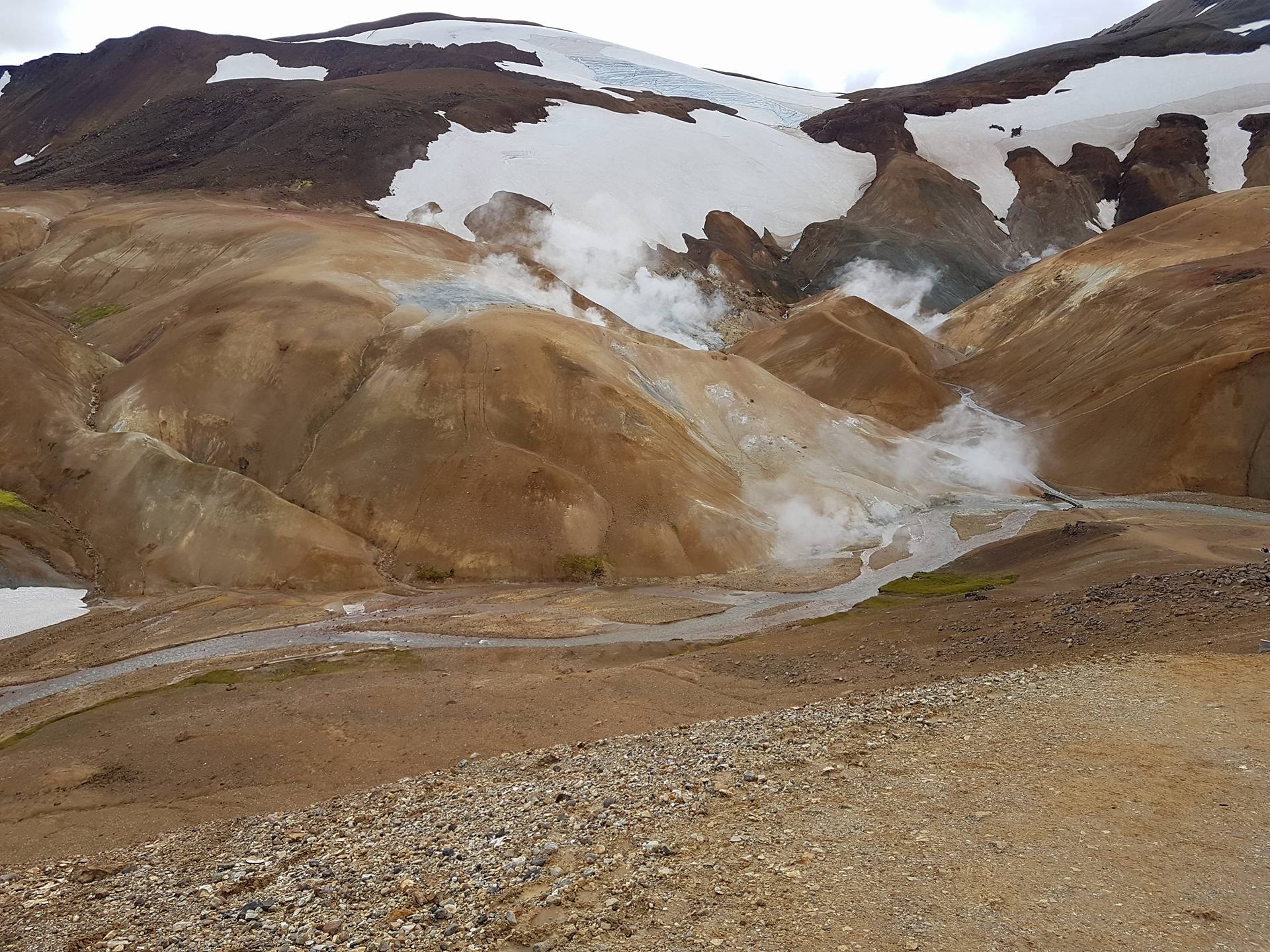 Day 1
08:30 – 09:15 – Pick up at BSI bus station Reykjavik
10:00 -10:30 – Arrive at start location where we have a coffee and the horses are selected based on individual rider's experience
11:30 – We start our tour by riding up to our little village, we pass some farms and fields. After the middle of the day we will take the way to Laxárdalur farm where we stop
18:00 -19:00 – Arrive at our accommodation at over 100 years old Icelandic house, traditional Icelandic dinner
Day 2
08:30 – Breakfast
10:30 – We start by riding up into the highlands and enjoy its beautiful scenery. We will ride in Laxárdalur and see Laxargljufur canyons as deep as 100-200 m and about 10 km long. Sandstone and turf shaped and carved by the river also nice cliffs and pillars and also colorful vegetation, make these canyons among the most beautiful in the country. The ride is about 6 hours (40km) with breaks for riders and horses.
18:00 -19:00 – Arrive at Helgaskáli cottage, traditional Icelandic dinner
Day 3
08:30 – Breakfast
10:30 – We leave Helgaskáli ride for about 6 – 7 hours that day. On the way we will have amazing view all around on Bláfell -the Blue mountain – home of giants and ptarmigans, Langjökull ice cap and the multi-summited Jarlhettur row of peaks. Our herd of freely running horses will let you remember that day. We will see over to Kjölur- the way connecting South and North of Iceland.
18:00 – Arrive to Lepistungur accommodation
19:00 – Traditional dinner
Day 4
08:30 – Breakfast
11:00 – We ride for around 6-7 hours that day. We ride across Kisubotnar, see Hofsjökull the third largest glacier in Iceland on the right side and amazing Kerlingafjöll on the left 
18:00-19:00 – We will stay in Ásgarður valley that is in the northern part of the mountains – Kerlingarfjöll in a mountain house and that will be sleeping bag accommodation with showers
20:00 – Dinner
Day 5
08:30 – Breakfast
11:00 – We will take our time in Kerlingafjöll, we go for a hike to hot springs and walk around that beautiful area. Due to the unusual combination of heat and cold, the flora around the hot spring area is highly unusual. In the afternoon we saddle up and ride to Svinarnes
18:00 – Arrive at Svinarnes our accommodation for the night
20:00 – Traditional dinner
Day 6
08:30 – Breakfast
11:00 – Start our riding with a mountain views, beautiful landscape down the river Sandá. We enjoy our horses and all of theirs unique gaits. Great views over to Kjölur and a long day in the saddle
19:00 – Coming to Klettur cabin in the highlands
20:00 – Grilled dinner
Day 7
08:30 – Breakfast
10:30 – Start our riding which is 6-7 hours (ca. 40 km) through wonderful green landscape and then down the village, closer to civilization again
17:30 – Back to a meeting point where we´ll have light dinner and say goodbye
18:30 – Departure and arriving at BSI bus station Reykjavik 19:30 – 20:00 o'clock