Around HEKLA Volcano – 6 Days tour
Around Hekla Volcano –
6 Day Tour
Old tales tell of the belief that the souls of the condemned travelled through Hekla's crater on their way to Hell. Others say that the witches met with the devil on its top and it is the gateways down to Hell.
On our horseback riding trip we will take a close look and feel the power on the volcano and nature. It will be magical to see the Icelandic mountain queen from all sides and ride on very different landscapes and beautiful patches. Free herd will run with us all the way and also give the tour the dynamic and unique feeling. 
Six days in the saddle, sleeping in a mountain cabins, eating Icelandic dinners and unforgettable experience. The tour is a real cross country based riding trip with a free heard of running horses. We are going to use trails which are not usually visit by ordinary visitors in Iceland.
There is going to be around 6 – 7 hours riding a day (around 30-40 km at day). Pick up at BSI bus station Reykjavik around 8:30am on the first day of our horseback riding tour and drop of to BSI around 7-8pm last evening
Sleeping bag accommodation.
Important: Due the poor weather conditions plan and distance of the tour may change.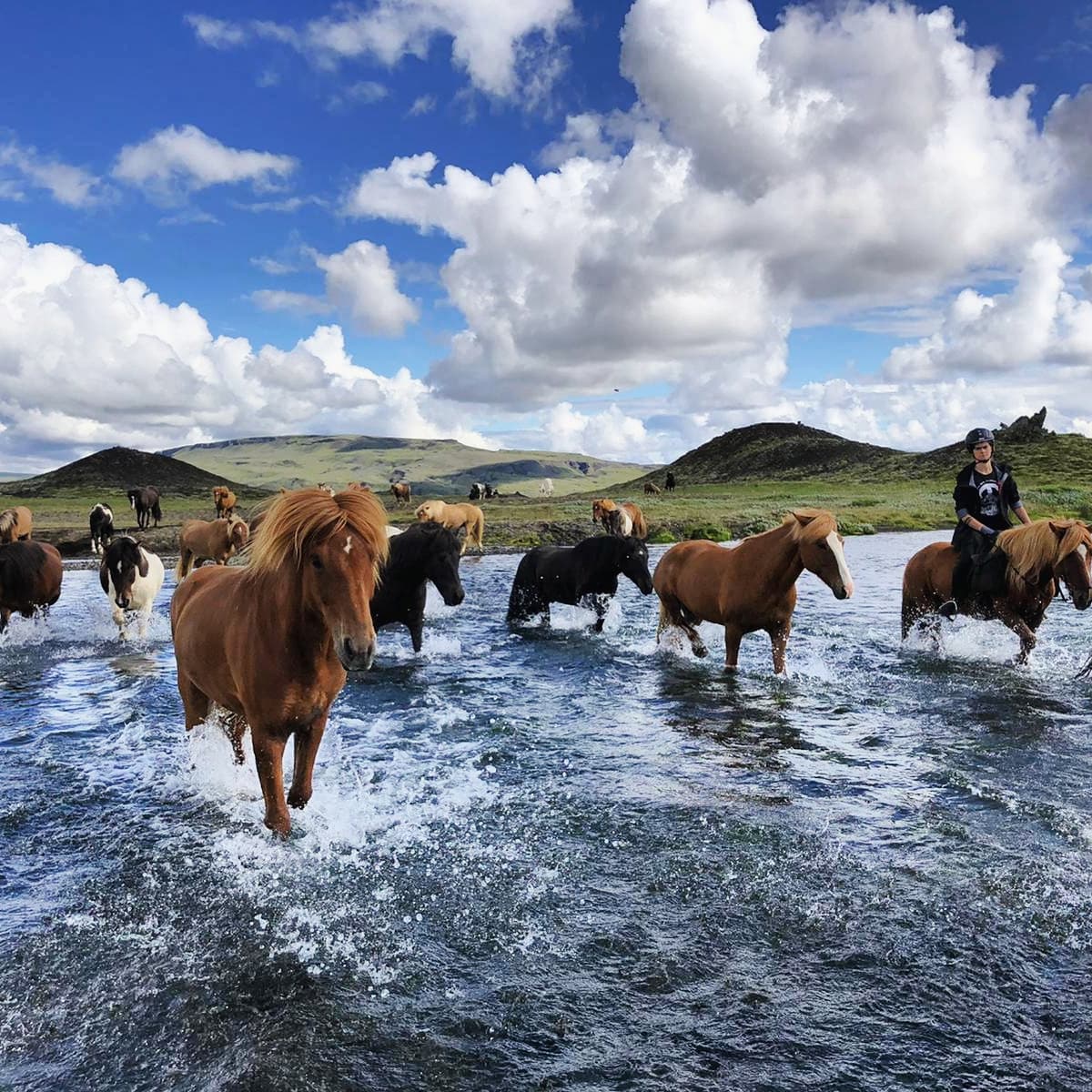 The tentative itinerary is as follows:
Day 1
Riding tour begin from our beautiful village and goes across lava fields and sand. We visit 2 nice waterfalls Tröllkonuhlaup and Þjófafoss and will be riding close to Búrfell mountain.
It will be amazing to pass beautiful lupin fields and stop for the night at Rjúpnavellir in Rangárþing Ytra it is a small and comfortable resort in South of Iceland. It is located only 9 km from the famous volcano – Hekla known as the "Gateway to hell" 1,491 m. is one of Iceland's most active volcanoes. You should also know that over 20 eruptions have occurred in and around the volcano since 874.
Distance around 6 hour ride (30-35 km).
Day 2
Start our riding in the morning along low Icelandic Birkir tree forest also passing some farms and summer huts areas. Passing, Hrauntorfa lava field, Selsund (where during the earthquakes in 1912 a crack opened nearby and one side of the crack subsided all of 4m), and Suðurhraun and Pálsteinshraun lava from Hekla.
We get closer and closer to Þríhyrningur mountain and see far to Eyjafjallajökull. After a good riding day we will arrive to Foss cabin an old deserted farm, where we can enjoy, amazing mountain landscape with waterfalls, fields and Eystri-Rangá river beside.
Distance around 6-7 hour ride (35 km).
Day 3
Firstly we leave Foss and following the river we start our riding at Fjallabak syðri – Behind the mountains old road. Enjoying a great mountain view and we will get closer to Tindfjallajökull glacier with highest peak Ýmir 1462m.
That night we stay at the wonderful cabin Hungurfit where we can enjoy amazing views. River Hvítmagá runs close to and it has its source at Hungurfit and it is highly enjoyable to travel by horse or foot along the river.
Distance 30km
Day 4
Begin our riding in the highlands and after crossing Eystri-Rangá river, Grasleysufjöll and lava formed landscape. Above the mountain lodges, the Skyggnishlíðar ridge leads up to the mountain Skyggnir also popular hiking destination.
 On horseback we will come very close to Laufafell mountain 1264m and end the day at Dalakofinn cabin. Dalakofinn hut is conveniently situated in the highlands, close to the Torfajökull glacier area. From the hut a variety of long or short hikes can be taken, f.ex. to have a look at a geothermal area and hot springs – Reykjadalir.
Distance around 20km
Day 5
Following Hekla road on the East side one sees a lots of different landscapes formed by lava eruptions. Very dramatic and mysterious views will give us a lots of feeling of the volcano's power and also we will be just by its edges. Seeing little Hekla. Massive lava volumes from Hekla take around 8km3.
Come down by Rauðaskál mountain, crossing soft black ash and lava fields and end our day at Hólaskógur cabin.
Distance around 45km
Day 6
The day will start with a ride from Hólaskógur across lava and sand and over Þjórsá river bridge, stop for a break in Hólaskógur and continue riding down the valley.
Passing Stöng old farm and one of the largest Icelandic forests – Þjórsadalskógur. We will come down the village back to the civilisation.
Distance over 40km