Kjölur -6 Day Tour
South – North
Kjölur – the dream of every horsemen is to ride across the country. Our tour will lead us from South to North of Iceland, Free herd will run with us all the way and give the tour the dynamic and unique feeling.
We will start in our beautiful village, ride across rivers, mountains, fields and farms. Our strong Icelandic horses will bring us to the interior of Iceland. We will be passing glaciers, hot springs and highlands. Visiting Hveravellir geothermal area in the Heart of Iceland, between the glaciers Hofsjökull and Langjökull and overnight in a cabin just by a glacier tongue. We continue to Northern Iceland until we reach Vatnsdalur – green and beautiful valley, our final destination. On our way we will see incredible landscape not often seen elsewhere.
Six days in the saddle, sleeping in a mountain cabins, eating Icelandic dinners and unforgettable experience. The tour is a real cross country-based riding trip with a free heard of running horses. We are going to use trails which are not usually visit by ordinary visitors in Iceland. The trial where you can see many monuments of nature and beautiful landscapes of Iceland. This excursion is only for experience and very experience riders.
There is going to be around 6 – 8 hours riding a day (around 30-50 km at day). Pick up at BSI bus station Reykjavik around 8:30am on the first day of our horseback riding tour and drop of on the last evening 7-8pm to BSI.
Sleeping bag accommodation.
Important: Due the poor weather conditions plan and distance of the tour may change.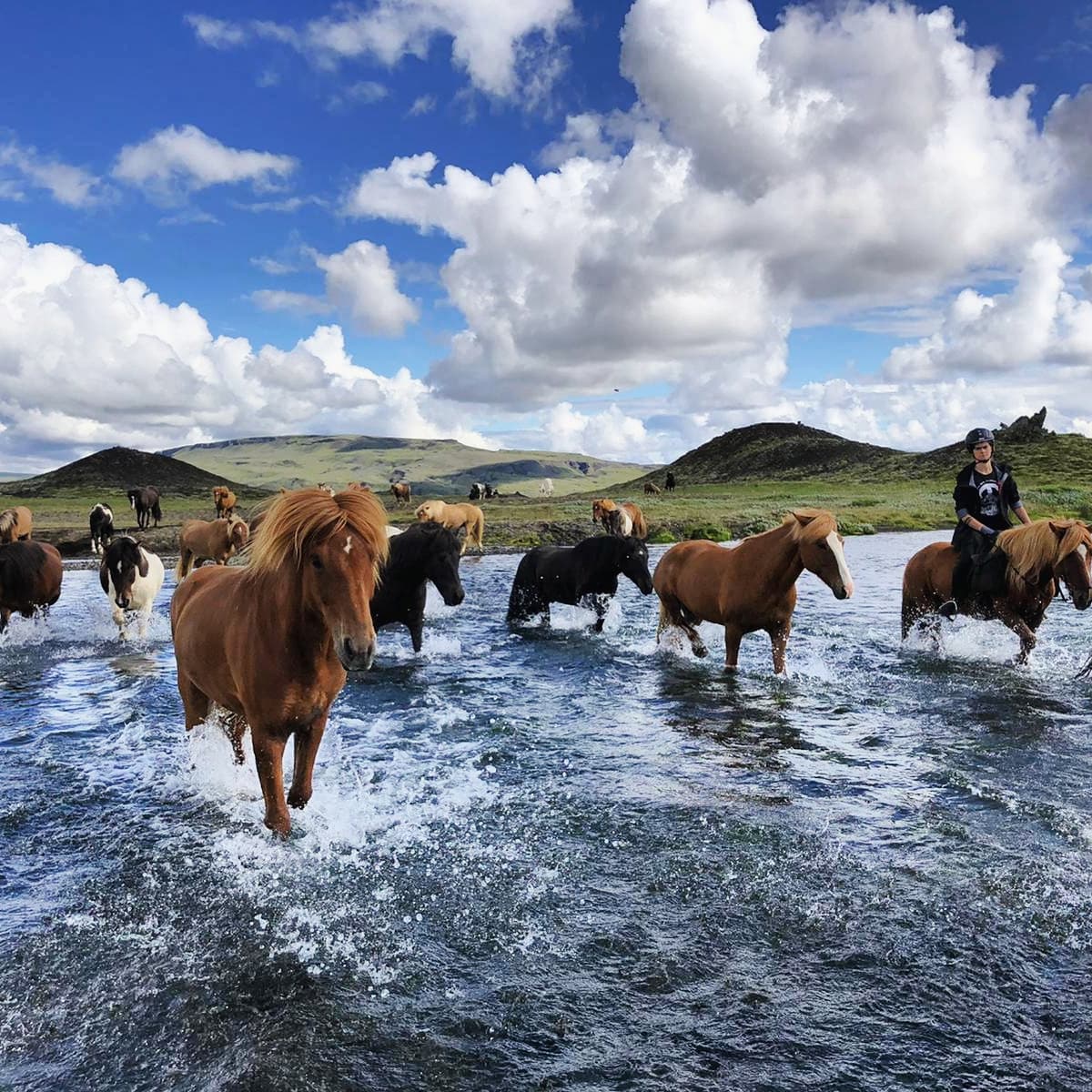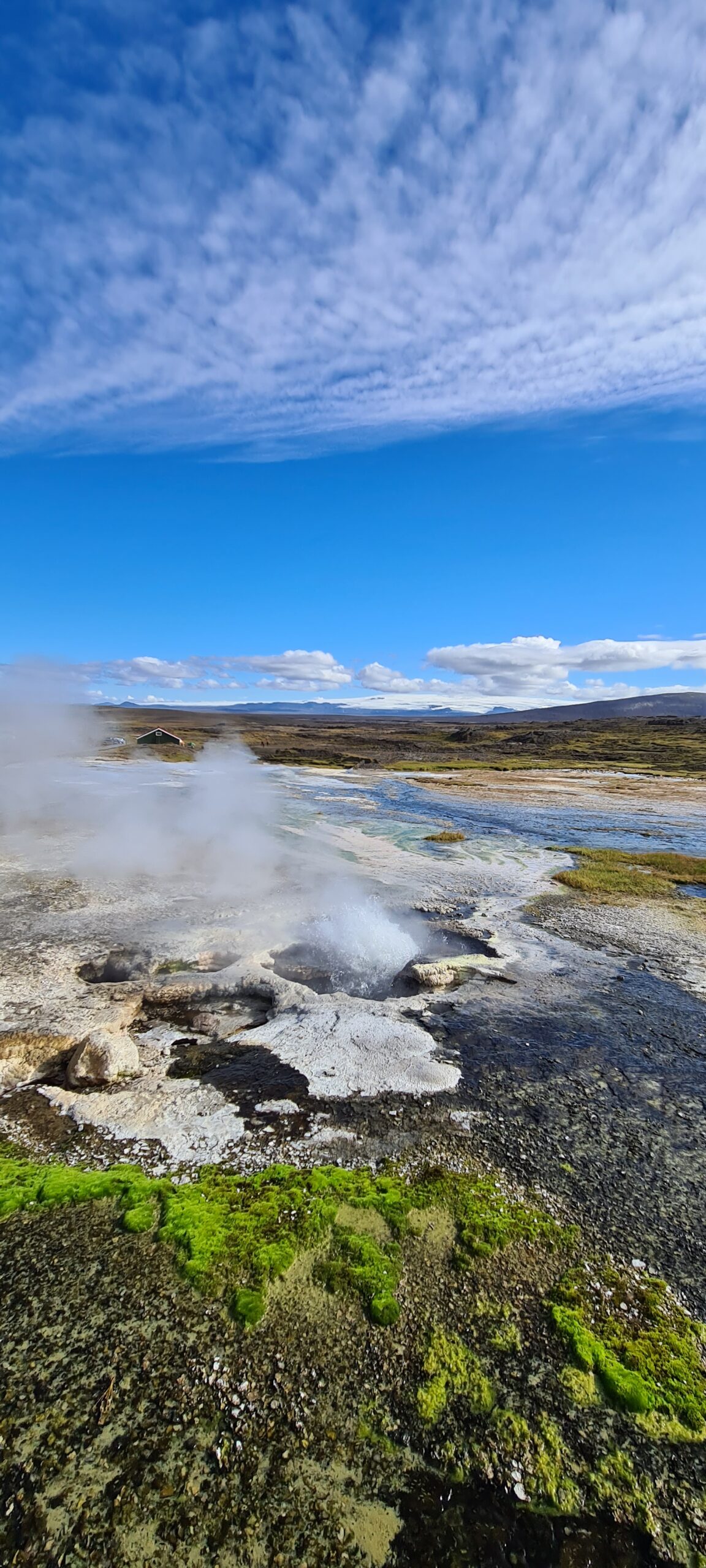 The tentative itinerary is as follows:
Day 1
08:30 – Pick up at BSI bus station Reykjavik
10:00 -10:30 – Arrive at start location where we have a coffee and the horses are selected based on individual rider's experience
11:30 – We start our tour by riding up to our little village, we pass some farms and fields, across the river Stóra-Laxá. We visit Gullfoss waterfall on one of our stops, where Hvítá rivewr falls 32 meters in two stages.
18:00 -19:00 – Arrive to Skálinn house, traditional Icelandic dinner
Distance 7 hours (38km)
Day 2
08:30 – Breakfast
10:30 – We start by riding up into the highlands and enjoy its beautiful scenery. We will stay that night close to the mountain Bláfell at Fremstaver mountain cabin.
18:00 -19:00 – Arrive at Fremstaver cottage, traditional Icelandic dinner
19:00 – Grilled dinner
The ride is about 5 hours (23km) with breaks for riders and horses.
Day 3
08:30 – Breakfast
10:30 – Today we will cross the river Hvítá and ride close to the beautiful
glacier lake Hvítárvatn – source to the river Hvítá.
18:00 – Arrive to Árbúðir accommodation, situated right on the sides of river Svartá. 
19:00 – Traditional dinner
Distance 35km, with breaks for riders and horses.
Day 4
08:30 – Breakfast
10:30 – Great views over to Kjölur and a long day in the saddle. We ride along the glacier river Fúlakvísl and through hugelava fields Kjalhraun in the center of road Kjölur. We will be just by the edge the second largest ice cap of Iceland Langjökull. Later that day we come to Thjófadalir – Valley of Thieves, a beautiful green valley surrounded by high mountains, a true oasis in the wilderness. Here in this rough but extremely beautiful nature the most famous outlaw Fjalla Eyvindur survived for years.
18:00 – Arrive to Hveravellir, a very unique geothermal area, where we can enjoy a hotsprings bath just few steps away from our cabin.
20:00 – Dinner
Long riding day 50km.
Day 5
08:30 – Breakfast
10:30 – Our way today to the north will lead us over the beautiful river Seyðisá famous for salmon. We will be passing mountains Sandkúlufell and Sauðafell and enjoying the beautiful scenery.
Our herd of freely running horses will let you remember that day. 
18:00 – Arrive at Áfanginn accomondation by Áfangafell mountain, with a hot tub and showers.
20:00 – Traditional dinner
Distance 35km
Day 6
08:30 – Breakfast
11:00 – We continue our ride over the Auðkúluheiði in the Svínadalur valley.
We arrive to Vatnsdalur amazing grown valley, named from the lake close by. Riding with a mountain views, beautiful landscape by the salmon and trout river, Vatnsdalsá and its waterfalls and a canyon. Famous Vatnsdalshólar – hills, are in the area, very popular for  Icelandic landscape. The area is also a setting in the Icelandic Saga, Vatnsdæla-Saga.
17:00 -We will arrive with our horses to Forsæludalur Farm which is the first farm in this area, when you come from the interior highlands. (35 km)
18:00 – Light dinner.
19:00 – Drive out back to BSI Reykjavik (around 3-4h drive)