About us. We are a family run company and We love Icelandic horses and Icelandic nature.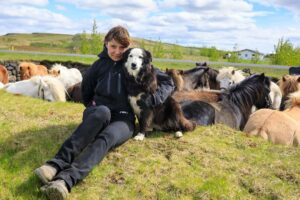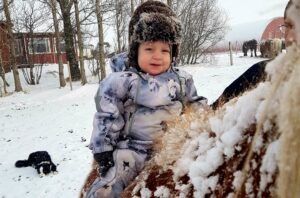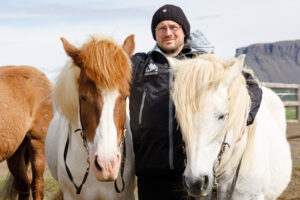 We are Elwira, Sveinn Þór and Henrý Þór. Our goal is to offer amazing horse riding tours and also unforgettable memories! That is something we have done for many years and never get enough of. As a result we decided to organize riding tours for everyone who shares our enthusiasm. The farm is called Breiðanes and its located in the southern part of Iceland. Núpshestar is first of all a small family business and we focus especially on a personal, good service and smaller groups also private tours. Goal is to meet the needs of every guest as best we can with personal service.
Area around the farm reflects the image of beautiful views, landscapes and it changes with every step. As we are close to the longest Icelandic river Þjórsá we have a great mountain view on Hekla volcano, Eyjafjallajökull also other glaciers and mountains. On our tours you can discover a part of Iceland where ordinary traveler probably never go also special trails for Icelandic horsemen, roads which will surprise with beauty of Icelandic nature. The village is full of very old riding patches and be a part of Icelandic nature.
Núpshestar own quite large number of Icelandic horses, enough to organize excellent trip and enough to choose the right horse for our customer. Well, we follow famous Icelandic slogan say:
Owning an Icelandic horse is like eating peanuts, you can not stop with one!
Our horses is also our pride and we love every single one.  Hope that you will also love them after you meet.
For our customers we do our best, we use our greatest horses and we cook delicious Icelandic food, serve tasty snacks and finally choose the nicest ways to ride. Let us convince you that a riding tour is one of the most exciting things you ever do! There is no better way to get to know Iceland and also Icelandic horses. Riding tour we are going to take is Your tour on Icelandic Horse. Join us and come for a ride!
We are a Travel Agency legally authorized by Icelandic Tourist Board.
Núpshestar – Riding Tours Iceland is located at Breiðanes farm.
It is situated 33 km from the town Selfoss also around 88 km from Reykjavik in the southern part of Iceland. We are off the road 30.
Núpshestar have a great location for those who travel to any South part of Iceland. We are on one of the ways to Golden Circle, Kjölur, Sprengisandur, Landmannalaugar and also many more beautiful places.